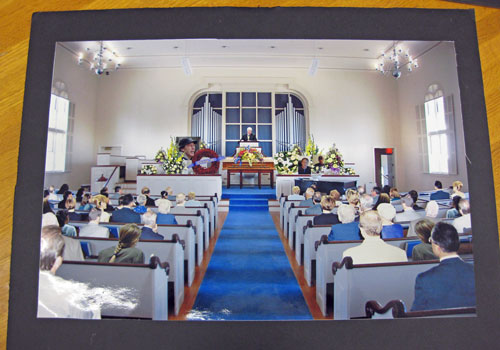 I know you've all be waiting with bated breath to hear more about the Adam Sandler movie that may be coming to town, and I can tell you from last night's Board of Selectmen meeting that the town is thiiiiis close to signing the deal with Columbia Pictures.
"We're in pretty good shape on everything," Chairman Bill Boland said. He said he expects the deal will be finalized in the next few days.
Assuming it all goes through, Columbia Pictures would start setting up outside Pilgrim Church the week of May 11, with filming scheduled for the week of May 18.
St. Mark's Street will be closed from May 11 through the Memorial Day holiday.
Stars, stars, and more stars
The movie — a comedy about high school friends reuniting on a Fourth of July weekend 30 years after graduation to attend the funeral of their high school coach — has quite a cast. According to IMDB (thanks for the link, Emily!), the following celebs will join Sandler in the movie: Salma Hayek, Rob Schneider, Kevin James, Maria Bello, David Spade, Chris Rock, Maya Rudolph, and Colin Quinn.
No word on which of the stars will be in town for the shoot, but Columbia Pictures reps have set aside space for 10 campers for the movie's stars.
It takes a lot of equipment to film a movie
The movie is going to bring quite a bit of traffic to town — and I'm talking about all the production and support vehicles, not the lookey-loo's who will surely show up.
Columbia Pictures is still working out all the deals, but they hope to set up their basecamp in the lower parking lot at Woodward. The star campers will be parked there, along with hair and make-up and wardrobe trailers, and something called a honeywagon (bathrooms and dressing rooms).
Work trucks including electrical, grip, prop, and special effects trailers, among others will be stationed at Ted's Towing on Park Street.
Three catering trucks will set up camp at St. Mark's Church, and will shuttle food over to the Pilgrim Church hall for crew breakfast and lunch.
The crew will park on the triangle of land at the corner of St. Mark's Street and Route 85. Extras will park at the office building at 225 Turnpike Road (at the corner of Parkerville Road), and will be shuttled over to the site.
During the week of filming, satellite work trucks, camera, sound, and video trucks, a craft services truck, a generator, and other miscellaneous trucks will take up residence at the back of the Town House lot.
On one day of filming, the crew will erect a crane in the common in front of Pilgrim Church to get a wide establishing shot of the church and cemetary. Columbia Pictures reps assured selectmen the crane would not damage the common.
The Columbia Pictures reps said they have worked out a traffic control plan with Interim Police Chief Jane Moran. "The goal is to keep it safe and keep traffic flowing."
For those of you hoping for your big break
They are casting for extras, but it's not the sort of thing where you can just walk in off the street. You have to go through a casting company in Boston. I hope to have more detail on that later this week, so keep checking back.
For the latest coverage on the Adam Sandler movie, click here.