EMC recently cleared another hurdle in its bid to build a 10-building office park on 445 acres straddling the Southborough/Westborough line, but the company isn't saying when or if it will actually move forward with the plan.
A spokesperson told the Worcester Telegram & Gazette:
"As we've said all along, we're permitting to develop the 445-acre site if and when it makes most sense for the business. If the development meets our growth plans down the road, we'll develop it."
The Southborough Conservation Commission recently approved EMC's roadway plans — the last of four boards in Southborough and Westborough to give initial approval.
Town Planner Vera Kolias said that with the approvals, EMC has protection against zoning law changes for the next eight years. Their subdivision approval from the Southborough Planning Board usually lasts two years, but can be extended upon request.
Kolias said EMC would need additional permits to actually start construction on the lots, but so far they haven't taken any steps to  initiate that process.
You can read more in the Worcester Telegram & Gazette.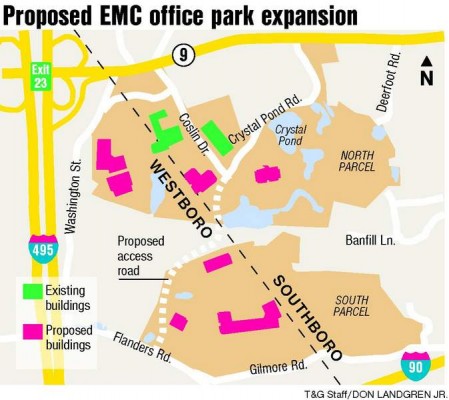 Related stories:
What impact will EMC layoffs have on Southborough?
EMC gets approval from Westborough Planning Board
Southborough Planning Board approves EMC plan
EMC resolves dispute with Westborough, now on to Southborough