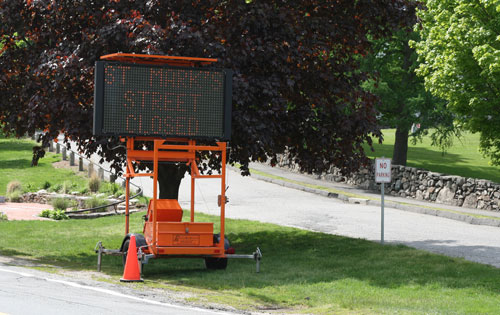 As I was up at Pilgrim Church taking pictures yesterday evening, a woman driving by in her minivan stopped to ask me if the movie was "still filming." And church members I talked to said there were plenty of cars cruising down St. Mark's Street yesterday trying to get a glimpse of the action. You gotta figure it's a sign of things to come.
I asked Interim Police Chief Jane Moran how much traffic she expects to see when filming starts next week. She said while there's no way to predict how many people will come to town to do some star-gazing, the police department has a plan in place.
"We're going to keep traffic flowing, but it will be heavily congested," she said.
In addition to the road closures, there will be no parking along Main Street or in front of the Library. Parking will be allowed along one side of Marlborough Road, similar to the way it is on Heritage Day. Parking will also be allowed on one side of both School Street and Latisquama Road.
Parking signs will go up sometime later this week.
And if you think you'll be able to park somewhere and walk up to the church, think again. "Officers will be strictly controlling the area around the church," Chief Moran said. Pedestrians won't be allowed in closed areas like the common and the cemetery.
In addition to the lookey-loo's (of which I admittedly will be one), the area will be crowded with movie folk. Several hundred extras are expected to be onsite in addition to the cast and crew. Shuttle buses and limos will transport the stars and extras from various off-site locations.
Chief Moran said they will have 10 to 12 officers on site each day next week, all paid for by Columbia Pictures. The police department is reaching out to other towns because they don't have enough officers to meet the demand.
Note that portions of Main Street may also close for short periods of time during filming to accommodate specific scenes.
All-in-all, downtown Southborough is likely to be a mess next week. Chief Moran offers this advice, "If you don't need to be in that particular area of town, avoid it. But if you need to get through, you'll be able to."
For more coverage on the Adam Sandler movie, click here.