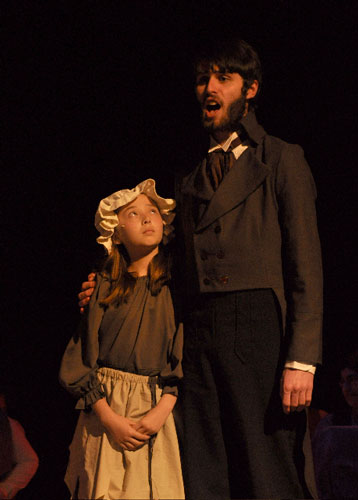 Southborough residents have been raking in the accolades of late. Here's a handful of notable residents doing notable things.
Lexi Ryan wins a TAMY
She did a turn as the Ghost of Christmas Past, and one as Cindy Lou Who. But it was her recent stint as Young Cosette in Algonquin's presentation of Les Miserables that earned Lexi Ryan a TAMY, an award that recognizes exceptional accomplishments in the production and performance of musical theater in area high schools.
Lexi isn't in high school — she's a student at Neary — but she was won the Rising Star Award. Algonquin's Elizabeth Wall (Northborough) got the prize for best supporting actress, and the Algonquin student orchestra took home best orchestra honors for their performance in Les Mis.
Lisa Braccio is an unsung heroine
Last month Lisa Braccio organized another care package drive for the troops overseas — her ninth such drive. Just a few days before, the Southborough resident was recognized by state legislators as an unsung heroine for her work on behalf of the troops. "I was very touched. "I feel you shouldn't get an award for doing the right thing," she told the Metrowest Daily News.
Stephen Coldwell goes national
Southborough's Stephen Coldwell likes to play console games (that's video games to you an me). But he doesn't just like to play them, he likes to write about them, too. Stephen authors a regular column on console games for the site examiner.com. A few weeks ago his previously Boston-based column went national. That means gamers on 70 different examiner.com sites can now read his words.
Shubu Mukherjee gets career accolades
It's been a notable year for Southborough's Shubu Mukherjee. As a principal scientist at Intel, Shubu was recently awarded the Maurice Wilkes Award given annually for an outstanding contribution to computer architecture made by someone early in their career. Some heavy hitters in the computer world have won the award in years past, like the CEO of AMD, the chief scientist at Nvidia, and the CTO of supercomputer company Cray.
Shubu was also named an IEEE Fellow, the highest level of IEEE membership. And he has a book, Architecture Design for Soft Errors
. How about that for some light bedtime reading?