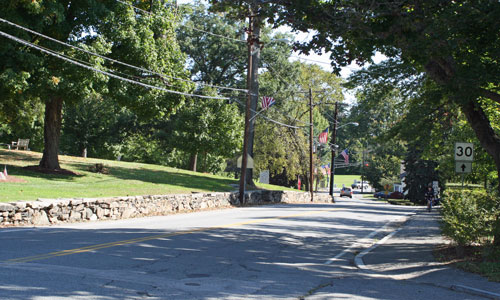 The town has held a number of public meetings to share information about and get feedback on the reconstruction of Main Street, and the next in the series will be on Thursday night.
The town's first design was rejected by Mass Highway earlier this year. Since then, the town and project engineers Vanasse Hangen Brustlin Inc. of Worcester have been working on a new plan. It's that plan you'll get a look at on Thursday.
A major focus is how to reconfigure the town common to meet Mass Highway's requirements while still giving residents what they want — parking, among other things. The plan also addresses the intersection of Routes 30 and 85.
Wrote Town Engineer John Woodsmall in a letter to abutters,
This is an important meeting that will help us to determine what will be the preferred design alternative that will be presented, at a future meeting, to the Planning Board and Board of Selectmen for their review and approval.
The meeting will take place on Thursday at 7:30 pm at Cordaville Hall (Senior Center, 9 Cordaville Road).
(Click here for more on the Main Street reconstruction project.)