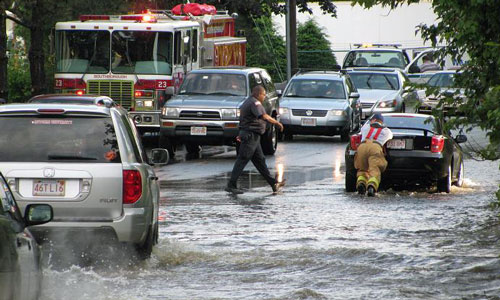 As New Englanders, we're no strangers to severe weather — just look to the July flood for a recent example. Thanks to a lot of work by the town's emergency perparedness groups, Southborough is now even more prepared than ever to deal with weather threats.
Southborough recently became certified by the National Weather Service (NWS) and the Federal Emergency Management Agency as a StormReady Community — only the ninth community in Massachusetts to be so certified.
The certification means the town is better prepared for severe weather through advanced planning, education, and awareness.
Among the requirements of the certification process, the Southborough Emergency Management Agency (SEMA) developed a public notification plan. They also worked with the Recreation Department on a weather awareness presentation that's delivered to coaches, referees, umpires, and others using town fields.
The effort was led by Southborough Firefighter/EMT Neal Aspesi who serves as director of operations for SEMA.
"Southborough has far exceeded the StormReady requirements and they are a great example to other communities," NWS-Taunton StormReady program leader Hayden Frank wrote in a recent email to Aspesi and others.
The NWS will present the town with its official StormReady certification during a ceremony at the Town House on October 20 at 6:30 pm. All are invited to attend.
For more information on what it means to be a StormReady Community, visit the national StormReady website. For more information on Southborough's certification, see the SEMA StormReady website.