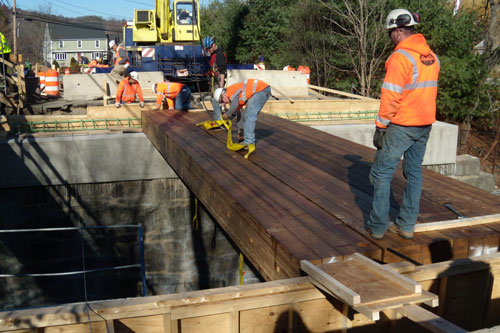 I asked Town Engineer John Woodsmall for an update on the Northboro Road bridge work. Here's what he had to say:
The bridge work is proceeding on schedule.  Last week, the wood timbers were delivered and installed.  The end of the week they started tensioning the timbers together (pulling them tight against each other, using threaded rods).  This is a multi-stage process, and they have to wait 28 days between the first tensioning round and the second.  In the meantime, they will be continuing to work on the approaches, and installing guardrail and fences.  As of last week, they were on track to have the bridge open before Christmas.
Woodsmall also sent along some photos of the work. Click any of the thumbnails to enlarge and view as a slideshow.