National Grid has made progress in restoring power to Southborough residents, but three days after an unusual October snow storm, 285 homes and businesses are still without power.
According to the National Grid website, a single outage in the Parkerville Road south area is affecting 174 customers. Another outage along Atwood Road has 56 in the dark. The remainder are isolated and scattered outages, each affecting on a couple of homes in various parts of town.
Late last night, National Grid reported only 108 customers in Southborough were without power, but several commenters questioned the accuracy of those numbers. The map has since been updated to the current 285 number.
Most of the 3,700 customers who lost power after this weekend's snow storm saw service return late on Monday. The utility estimates power will be fully restored by end of day Thursday.
Here's the latest outage map. You can view an interactive version here.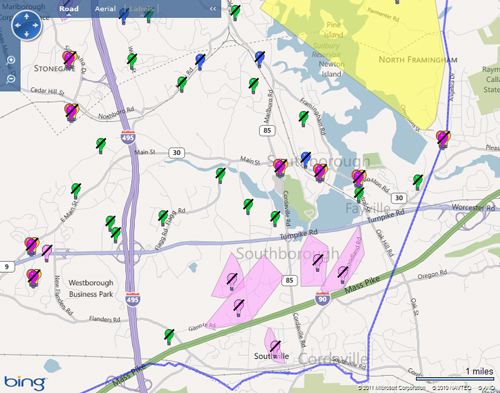 Update 11:00 am: National Grid now says 616 are without power in Southborough. Given the anecdotal reports I'm hearing on Twitter and Facebook, I suspect that's closer to the truth. Large outages are reported on Parkerville Road south and its side streets, Atwood Road, and Breakneck Hill and its side streets. I've updated the outage map above.
Update 5:00 pm: Town Administrator Jean Kitchen tells me five National Grid crews are working on Parkerville Road (south). The line is free, but there is a broken pole at Summit Drive. Power cannot be turned on until the pole is fixed, but there's not ETA for when that will happen. Atwood Road is reportedly back on, and the total number without power has dropped slightly to 593.