This is the first in an occasional series by Beth Melo, a Southborough mom who spends lots of time in the Children's Room at the Southborough Library. Beth says she hates to read the same book over and over, so she's made it her mission to seek out new and interesting books to feed her kids' voracious appetite for reading. In these guest posts, Beth will share the best of what she's found. This post was originally published on the Southborough Library website, and has been reposted here with permission.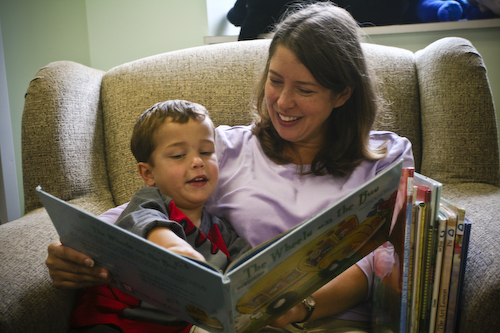 I Love to See You Smile: A Fun Reading List for Toddlers
My children and I read so many picture books, that it was recently suggested I start a blog about my favorites. The Southborough Library is the main reading source for my family, so contributing to their site made more sense. Most of the books we enjoy (and all in my articles) are part of their collection. In case you are interested in some background on the person offering these opinions, I'll tag that on to the end of the article.
I believe the key to encouraging reading in children is enjoying it yourself. I hate reading books that are boring, trite or annoying, no matter how much my kids love them. (Yes, I mean you: Barbie, Thomas, Strawberry Shortcake and Disney paperback sequels/prequels, and even the ever-adored Dora and Diego books – though some of those Dora/Diego are good beginner reading books).
For this contribution I'm focusing on the book series I liked when my kids were toddlers. If you have a small tot with an older sibling, some of these are good for encouraging beginning reading skills. Most have simple repetitive words. I found that to be a good way to keep both kids engaged in the same book.
While I have some favorite one-hit-wonders, I especially like book series. Once the kids are introduced to the first book, they are enthusiastic when they see the cover of another. It also makes it easier to find new books when you can return to the same authors for a while.
With that in mind, here are some of the book series that tickled us when my kids were small tots.
Jez Alborough's Bobo books: Hug, Tall, and Yes are really cute ones with very few words. The kids learn to read the story through pictures. (There are books out there without any words that have that same intent. I found that my children didn't engage with those. They wanted me to do something, so my job was to explain the pictures. The few simple words in these books made a difference.) Another nice feature is they can be read completely out of order.
Olivier Dunrea's Gossie books: They are simple short stories, good for attention spans of the youngest readers. The stories center around a quirky gosling, and then some new pals, mostly obsessed with her boots. (These should be read in order: Gossie, Gossie and Gertie, Ollie, Ollie the Stomper, etc.)
Doreen Cronin's Wiggle books: Wiggle, Bounce, and (new) Stretch. I especially love Wiggle. Humerous rhymes encourage action.
Shirley Hughes' Bouncing books: A toddler and her baby brother enjoy Bouncing, Hiding, Giving, Chatting, etc. Kids enjoy seeing other children their age experiencing the same simple joys.
Laura Numeroff's What _ Do Best books: It is fun for kids to flip the books and see the same words with different pictures. The idea is that both Mommies and Daddies (Uncles and Aunts, Grandmas and Grandpas) are good at the same things (mostly loving activities with kids), but they often take different approaches.
Laura Numeroff's If You Give. . . books: Much more famous than the above mentioned series, If You Give a Mouse a Cookie, is a classic. It is a good book for bridging to more preschool level books. There are certainly more words than the previous ones, but they are simple stories to follow and also rather short. These books all follow the same premise, one small action with a wild animal leads to a never ending loop of funny chaos.
Jane Yolen's How Do Dinosaurs. . . books: While my daughter did enjoy these, they are especially great for young boys. Watching the (initially) misbehaving dinosaurs (apparently portraying children) is fun. And young kids like answering obvious "no" questions – often a favorite word. It's a fun, non-lecturing, way to teach acceptable behavior.
Rosemary Wells' Max and Ruby books: The earliest of these books, the ones written purely by Rosemary Wells rather than based on the animated series, are very cute especially for siblings. Max is an irascible but sweet toddler and it's fun to see Ruby, the classic maternal sibling, trying to reign him in. (Though a frequent question in my household has been "where are their parents," perhaps the fact that they live in an alternate bunny universe makes the parental neglect acceptable.)
I hope this list inspires you and your tot(s) to enjoy some fun reading.
As promised, here is my background for any of you who want some perspective on who is offering this reading advice:
Southborough is my home town. I went to junior high and high school here ('83-'89), worked as a Southborough Library page (8th-12th grade), and returned as a home owner in '98. I'm currently a stay-at-home mom with two young children [Cassie (5 ½) and Michael (almost 4)].
When Michael was an infant and Cassie was a toddler, I found that reading to her was the best way to keep her happy while I fed him. Since that seemed like a never ending occurance (and reading the same book over and over made me crazy) I developed the habit of reading about 20 picture books a day. This fed Cassie's (and now Michael's) avid reading habit and constant desire for "new books".
If you've seen a crazy lady carrying 30+ picture and beginner reader books in/out of the Southborough Library with two small kids in tow, that's probably me.