I'm excited about this one. Southborough Recreation and Southborough Youth & Family Services have partnered up to present the first-ever Southborough Concert Series. The series, which starts next month, will take place on the lawn at Neary School and will feature a variety of music, including pop, folk, oldies, bluegrass, jazz, and more.
Concerts are free and open to the public, so grab your picnic basket, blanket, and lawn chairs, and gather your friends and family for an evening of great entertainment. Here's the schedule for the summer.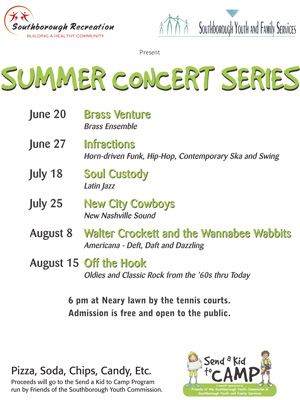 The Summer Concert Series welcomes sponsors committed to supporting the department and who would like to advertise their business at the same time. Please contact Southborough Recreation at 508-229-4452 for more information.