The Southborough Library's summer reading program starts up this week. Librarian Kim Ivers is hoping to break the library's record of 4,120 books read through last year's program.
To celebrate the Dig into Reading theme, kids will color in a bookworm for every read book they tracked in their log. (Younger children can track each new book read to them.)
The new fun spot in the Children's Room this summer is a "Dig for Fossils" playspot. Children can play archeologist by "uncovering" and identifying animal bones.
Throughout the summer, there are entertainers to get kids excited about coming to the library. Slated for this summer are magicians, puppeteers, and animal handlers. This Friday, Magician Greg McAdams and his dog Axel will "Dig Up Clues at the Library" at 11:00am.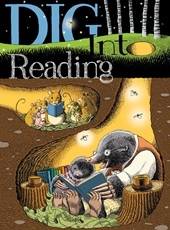 Perrennial favorite activities are back for the season: Lego Days, Craft Days, Pajama Story Times, raffles, and the traveling "Reading Rubber Ducks".  Weekly scavenger hunts will again challenge kids to test their library skills.
To celebrate the theme, garden gnomes will be hidden and moved around the Children's Room through the summer. Children will be encouraged to find them.
To peruse the library's calendar of upcoming events, click here.