The 10th Annual Southborough Summer Nights is scheduled for Saturday, August 24, 2013. You MUST save this date! (And rain date, August 25th.)
I don't know how I've missed posting this earlier. I guess it just seemed so far away. Now, it's in less than a month.
This is one of my favorite days in Southborough. It's our town's summer festival complete with fireworks at dusk. If you've never been, you are missing out on the fun. (I love Heritage Day, too. But this is a very different experience.)
There will be some changes to the layout of the event this year. I'll share those details closer to the day.
There are always plenty of free activities for kids. And, unlike some neighboring towns, all of these activities are free.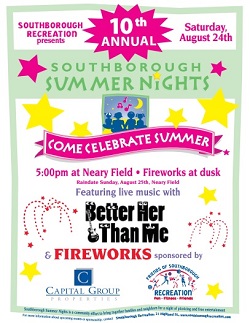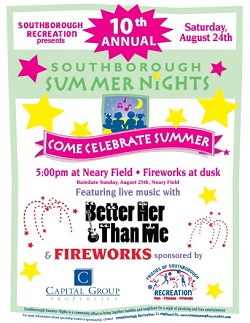 Here is a preview of what's on deck for this year:
Moonwalks,
Obstacle courses,
Basketball shootout,
Baseball pitch,
Photo booth,
Rolling video arcade,
Face painting,
Pony rides,
a Magician,
and the infamous "Bubble Romp" run by Southborough Firefighters
There is also music and a ton of food vendors selling fare like pizza, burgers, ice cream, and cotton candy.
Click to Enlarge
How You Can Help
The annual event is funded through sponsors, exhibitors, and Friends of Southborough Recreation, Department.
There are still opportunities for businesses and organizations to either sponsor or exhibit at the event. 
Every year, this event relies on volunteers. To volunteer for a shift, e-mail dferguson@southboroughma.com.