This afternoon, Sarah Cassell told me that Youth and Family Services is crossing their fingers and planning for tonight's concert to go on.
The decision was made based on a forecasted 67% chance that it won't rain.
So let's hope those grey clouds continue to hold back or pass on by!
The act scheduled for tonight is Walter Crockett and the Wannabee Wabbits. They will be playing American music, described as "Deft, Daft, and Dazzling".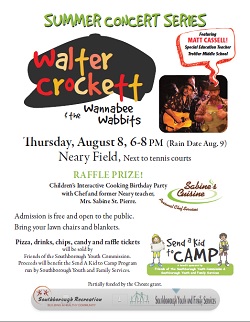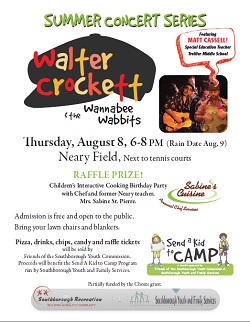 As always, the concert is free at Neary Field. Bring your own blankets and chairs.
But you don't have to pack your dinner. You can support "Send a Kid to Camp" by purchasing refreshments, including pizza.
Or, you can help by purchasing raffle tickets. Tonight's raffle will feature a prize from Sabine's Cuisine, offering a Children's Interactive Cooking Birthday Party.
If the rain does ruin tonight's concert, tomorrow, August 9th is the scheduled raindate.