In August, The Columbia Scholastic Press Association awarded a gold medal to Algonquin's Art & Literary Magazine.
Since 1925, CSPA has encouraged excellence in student journalism by offering critiques and honors. For the past 4 years, their medalist critique of ARHS' magazine, Sachem, has placed it in the gold level.
Sachem is produced once a year by the students of Algonquin Regional High School.
The magazine features student writing and art in all forms. It is an entirely student-run and produced publication from choosing the submissions and artwork to laying out the design of the magazine.
ARHS students work to focus the issue around a theme. For 2012-13, they chose "Sequences." The Editor's Note explains:
Have you ever noticed how numerous elements of our daily lives are continuously rotating through infinitely many patterns, or cycles? Such elements become intuitive and deeply engrained in our existence as we experience their unwavering, repetitive nature day after day.

But wait. Today is not yesterday, nor will it be tomorrow, nor will it be quite like any other day that will ever exist. Today is one hundred percent unique and completely its own, as will be tomorrow, and the ensuing, endless sequence of days. There are no repeats or redos or opportunities to circle back to the beginning and start over. There is simply one long, endless string of days that all connect to one another to form weeks and months and years.
My freshman year of Algonquin, I joined a club to work on a school literary magazine. At the end of the year, we published a modest stack of black and white stapled photocopies with a yellow cover page boasting the name Sachem.
Senior year, I was excited to help publish the magazine in newspaper format that allowed us to better highlight the photos submitted.
This year, I opened a package from Sachem's advisor, Jennifer Zuba, I was floored by the professional publication.
Flipping through the beautifully laid out pages, it was easy to understand how the editorial team captured their gold medalist critique ranking.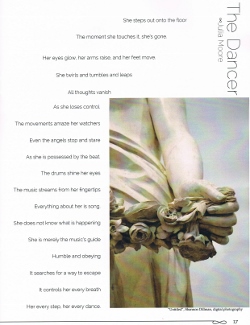 Some resources for the magazine are funded by the School Committee. But to produce such a beautiful piece requires greater funding.
Each year, the staff applies for grants and seeks contributions to cover the balance. Last year funds were raised through patrons and grants from the Northborough Cultural Council and the Southborough Cultural Council.
Anyone interested in becoming a Patron of the magazine can send a donation to Algonquin Regional High School, C/O Sachem, 79 Bartlett St. Northborough, MA 01532.
[Note: Since I didn't have access to the original files, the images were scanned, with permission. The imperfections are a result of my equipment, not the magazine or artists.]