Southborough residents showed their generosity this fall in response to the two traditional collection drives: the Troop Drive and Scouting for Food. But one of the drives failed to meet its goal.
The good news is that it's not too late to help.
Scouting for Food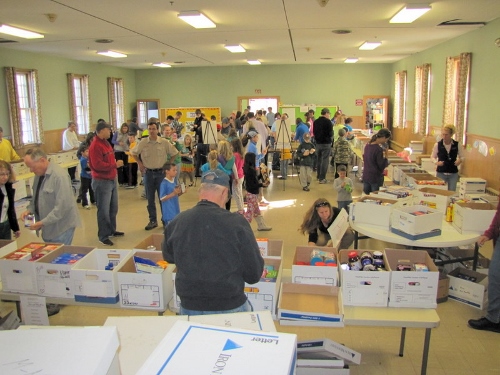 Scouts throughout town collected contributions on Saturday for the Southborough Food Pantry's biggest annual drive. Organizers are grateful for the generosity of those who contributed. They ended with just over 7,600 lbs of food and supplies collected.
Unfortunately, the donations were less than previous years and a disappointment.
When my daughter and I went to collect from our route, one of the streets on our route was a treasure trove. The other was a bust.
According to the drive organizers, they were getting reports like this all over town. One theory presented: beautiful weather and the distraction of the Red Sox parade caused many residents to simply forget.
If you still want to contribute, you can click here for the Food Pantry's drop off information. The site also lists information on much needed items.
They accept contributions year round, so it's never too late to make a difference.
Semi-annual Troop Drive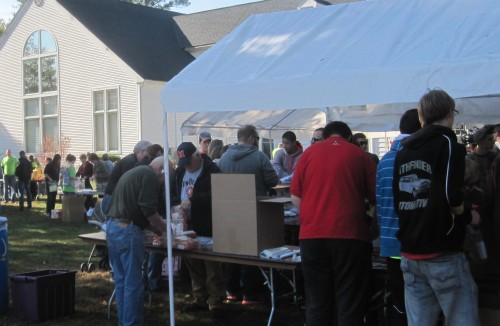 The October drive to support US troops overseas had better news to report. After a disappointing spring, organizers were delighted by the success this fall.
Our Community shipped 475 boxes weighing just over 12,000 pounds. Monetary donations covered the over $9000.00 in postage. Over the years, Southborough has sent troops 199,000 pounds in contributions!
This fall's contributions came not only from residents, but from the generous support of businesses like Stop & Shop. The supermarket trucked over both goods and workers to help with the drive.
Lisa Braccio, one of the drive organizers, asked me to share a thank you letter from one of the service members who received packages.
Master Sergeant Larry Metcalf's letter is attached, but I'll also share an excerpt below:
Ms. Lisa, Volunteers, and Metrowest Community~

First and foremost I would like to personally thank each and every person who has helped put this care package together, I do not think you all realize how much we appreciate these packages. Second, I would like to thank you on behalf of the Soldiers, Sailors, Marines, and Airmen we have here in our office for the unyielding support you show to us and our country.

This is my 9th deployment in 15 years, the care and support for the U.S. Service members from the American people has shown we are stronger than ever. When we receive these packages it like opening Christmas presents on Christmas morning, you never know what you're going to get. (read more)