There has been growing concern over the effects concussions have on the health and even the life span of athletes. Now the Southborough Recreation Department is seeking to help parents, coaches, and teachers learn how to handle concussions for student athletes.
If you have a child in athletics or are a coach for town sports, you may want to take advantage of this opportunity to be prepared for a possible emergency.
On November 18th at 7:00 pm, Dr. Alexandra Jackson, Psy.D. from Sports Concussion New England will hold a free information session:
Smarter, Safer Concussion Management for the Student Athlete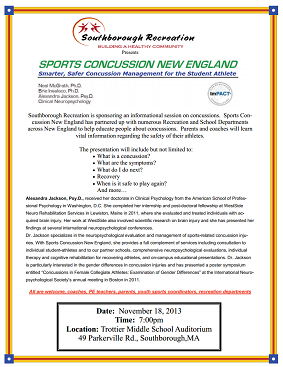 The event will be held in the Trottier Middle School auditorium
Adults will learn vital information regarding the safety of young athletes.
The presentation will include but not limited to:
What is a concussion?
What are the symptoms?
What do I do next?
Recovery
When is it safe to play again?
Dr. Jackson specializes in the neuropsychological evaluation and management of sports-related concussion injuries. She will share her expertise and answer questions.
The free event is open to the public and does not require registration.