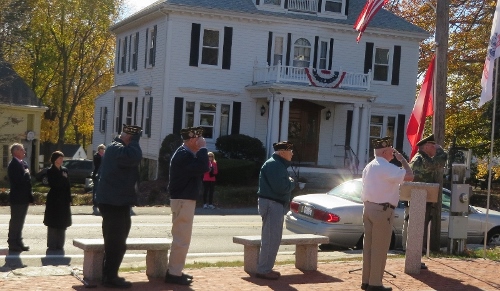 Southborough honored Veterans Day at the town's All Wars Memorial with speeches, prayers, remembrances and musical tribute.
The ceremony was led by American Legion Post Commander Lieutenant Colonel John H. Wilson and VFW Post 3276 Commander Steve Whynot.
Wilson began by thanking families who have acted in support of troops and veterans. He thanked the Phaneuf's for diligence in maintaining the memorial and the Braccio's for 20 years of efforts running semi-annual care package drives.
The commanders then called on residents to appreciate the sacrifices of fallen heroes from our past. Whynot remembered the tragic passing of Robert R. Foley, Jr. and his comrades on Veterans Day 45 years ago. Foley was killed in Vietnam just weeks shy of his tour's end. You can read more about Foley in Susan's post from this May.
Representative Carolyn Dykema and Selectman John Rooney also spoke about the importance of service members' bravery. Algonquin students added to the solemnity with patriotic song and ceremonial taps.
The ceremony was preceded by the annual parade of veterans, government officials, boy scouts, and cub scouts, along with a few girl scouts.
Here are some photos from yesterday's parade and ceremony.