Every year after Christmas, I put off taking down the ornaments and lights as long as I can.
In early December, decorating the tree while sipping eggnog brings me great Christmas cheer.
I sing along with the carols in the background to drown out that nagging voice in the back of my head. The one that tells me each ornament that goes on has to be taken down and packed away later.
After Christmas, the needles start shedding and the tree is brittle. But thanks to the Boy Scouts I can justify waiting to take down the ornaments for a couple weeks.
After all, the Scouts will remove our tree from the yard, but not until January 11th. So, I've got plenty of time.
(Of course, my husband would point out that (1) his job of removing the tree from the house is much more harder than undecorating and (2) we could leave the tree next to the house for a couple weeks until tree removal day.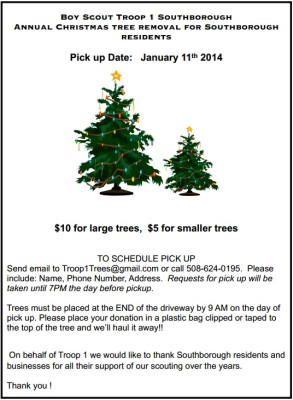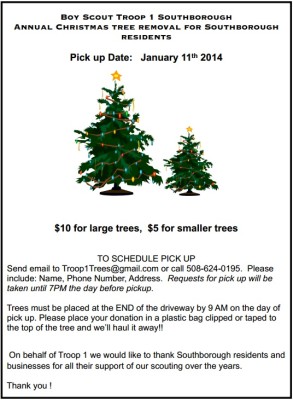 But he mumbles, so who can hear him?)
As in year's past, Boy Scout Troop 1 will remove your tree for a small fee ($10/large, $5/small).
Schedule your pickup by 7:00 pm on Friday, January 10.
Email troop1trees@gmail.com or call 508-624-0195. Provide your name, phone number, and address.
Make sure to place your tree at the end of the driveway by 9:00 am on Saturday, January 11.
Your donation should be in a plastic bag attached to the top of the tree.