A new community religious celebration has come to town this winter. On January 17 at 7:00 pm, the public is invited for the second session of "singing HU" at the Community House.
I had no idea what that meant. So I spoke with Susan Stone, the event organizer. She explained that it is a celebration of God that welcomes all religions.
I asked if they were familiar songs or sing-along sheets be provided. The answer is that people literally sing "HU". (Like a chant.)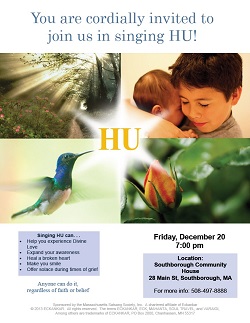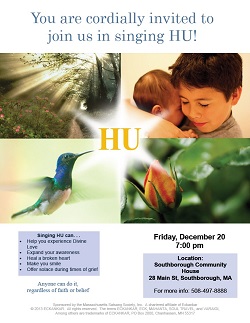 Stone explained that she organized the events because she herself has found it to be transformational. She is a representative of her faith, Eckankar. But the event is meant to welcome all faiths.
Aside from a brief introduction to the activity, the event entirely consists of song.
Stone tells me that the first celebration, in December, was well attended and received. It included members of different churches in town. She was happy to note that many people lingered after to discuss their spiritual experience.
She plans to hold regular events, the third Friday of each month.. For more information, call 508-497-8888.