Algonquin Regional High School Basketball coaches and varsity players will run a camp for 4th-8th graders this February.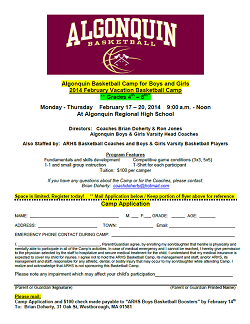 The morning camp will run Monday, February 17 – Thursday, February 20, 2014. Sessions will run from 9:00 a.m. – Noon.
Organizers are offering:
Fundamentals and skills development
Competitive game conditions (3×3, 5×5)
1-1 and small group instruction
The fee is $100 per camper and includes t-shirt.
If you have any questions, email coach Brian Doherty at coachdoherty@hotmail.com.
Want to get your kids pumped about the opportunity? Show them what the varsity players have been up to this season.