Southborough Little League is putting out the word about registration for the spring season. (Looks like they've made a branding shift from "Southborough Youth Baseball")
Sign up begins today and runs through February 28. The "base cost" is listed at $125.
The site also shares information about Tee ball, which began registration this week. Tee ball is open to 4 & 5 year olds (as of 4/30/14). The base fee for that program is listed as $25.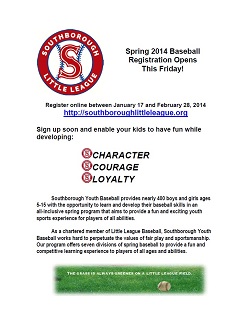 For more information, or to register, visit southboroughlittleleague.org.