Southborough Youth and Family Services has announced the annual NON-event of the year, Southborough UNscheduled.
The goal is to help families reconnect in an era of over-scheduling and individual-use electronic distractions.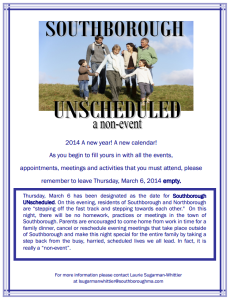 Parents are asked to come home in time for family dinner and cancel out of town meetings and/or activities.
This year, the date held is Thursday, March 6.
That day, there will be no homework assigned, team practices/games held, or meetings of community organizations or town boards.
So clear your schedule and look forward to some family bonding time!