The Southborough Senior Center is organizing a bus trip to Foxwoods for Monday, February 10.
If you are interested in participating, pre-register soon by calling 508-229-4453 or stopping by the front desk at the Senior Center.
On Monday, the bus will pick up registered participants in front of the Senior Center at 8:30 am. The return trip should have you back around 4:30 pm.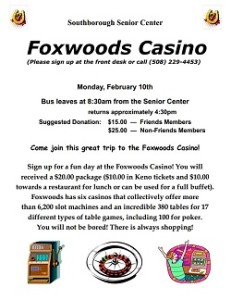 The cost for participating is a suggested donation of $15 for Friends of the Senior Center members and $25 for non-members.
Participants will receive a $10 in Keno tickets and $10 towards a restaurant.
Of course, actual costs will depend on how much you are willing to gamble.
You could come back a big winner, but there's a reason for the saying "The house always wins."
So keep your whits about you while you're there! And don't forget, if you run through your budgeted gambling funds, there's always window shopping.