The Southborough Arts Center will be hosting "Songbirds of the Northeast" with naturalist John Root.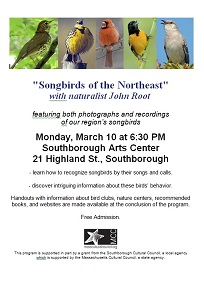 The presentation will feature photos, songs and calls of regional songbirds.
Attendees will learn to recognize birds by ear as well as eye, plus "discover intriguing information" about their behaviour.
There will also be handouts with information about bird clubs, nature centers and other birding resources.
The exhibit will be held March 10 at 6:30 pm at 21 Highland Street.
The free event is partially sponsored by the Southborough Cultural Arts Council.