[Note: I'm sticking this post to the top through Friday morning and will make updates as necessary. Scroll down for updates and more recent posts.]
Southborough public schools and ARHS are cancelled today. (I got my early morning wake up call today from Superintendent Charles Gobron.)
Of course this means that the Southborough Senior Center and any daycare, preschools or playgroups that adhere to the school cancellation schedule are also closed.
Southborough News' facebook page shared closings of Assabet, St. John's and Norfolk County Agricultural high schools. (Are there kids in town who attend Norfolk? Who knew?)
I know that we're supposed to get a lot of snow today.
Here's the latest this morning from National Weather Service. (Click below for detailed forecast and enlarged map)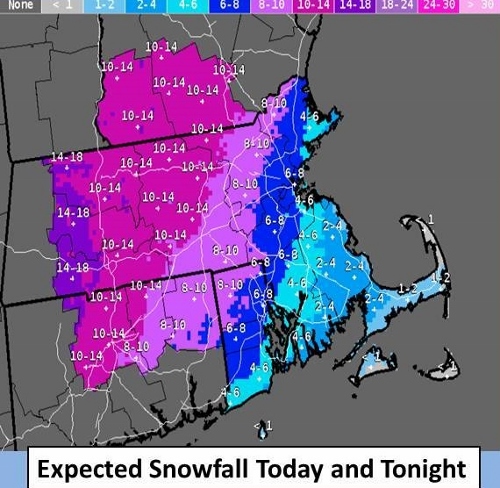 I'm too groggy this morning to read the map well. Are we in 8-10 or 10-14? Let's call it 10.
Right now, it's still too dark to see how much we've gotten so far.
I'll update the post later if there are other town services cancelled.
For now, I'm going back to bed.
Updated (2/13/14 10:06 am): For now, both Town Hall and the Southborough Library are open. Who knows what the day and the forecasted ice this afternoon will bring?
I just hope the snow stops in time for the buses to run tomorrow morning!
Updated (2/13/14 2:33 pm): Town non-public safety offices closed at 2:00 pm today. That includes Town Hall and the Southborough Library.
The Southborough Food Pantry announced that it will be closed tomorrow, Friday, February 15.