Next month, former Celtics player Bob Bigelow will be coming to Southborough.
Parents and coaches are invited to the talk from a top "100 Most Influential Sports Educators".
His talk won't focus on basketball.
As the author of Just Let the Kids play, Bigelow speaks to adults about "how they can give youth sports fun back to the children."
According to his website:
Bob is one of the foremost youth sports speakers in the country. He advocates fully meeting the needs of children as the top priority in youth sports programs, and provides new approaches for positive change in youth sports. . .
Celtics Life wrote about the former NBA player's concerns about the effects today's organized sports can have on children. They quoted him as saying:
Coaches would have seen me when I was probably in fifth or sixth grade when I was tall but angular and awkward and would have made the decision that I really wasn't a good basketball player. I didn't start playing basketball until I was 14 years old, and seven years later I was a first round draft pick for the NBA. The good news for me is that back then we didn't have a system where we had amateur adults making decisions that could have lifelong effects on children who maybe hadn't yet revealed their potential.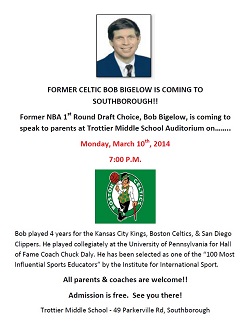 Want to hear more from Bigelow on his "prescriptions" for improving youth sports?
The free community event will be held 7:00 pm on Monday, March 10 at Trottier Middle School.