Here are highlights of what's happening around town this weekend. For more details and the full list, check the Event Calendar.
Friday, March 7, 2014: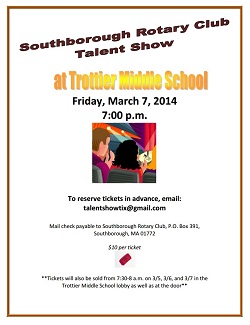 Southborough Rotary Club Talent Show (7:00 pm) @ Trottier Middle School: Expect a bevy of talented performers aged 5th grade and up.  (Click flyer to enlarge)
Saturday, March 8, 2014:
Fairy Godmother (11:00 am – 11:00 am) @ Southborough Public Library: Come hear Fairy Godmother Debbie O'Carroll's magical story and help act it out. This program is for children ages 3-5. Please register in the Children's Room. Sponsored by the Together We Can Family Network
Steeple Coffeehouse (Doors open at 7:00 for 7:30 pm show) @ Pilgrim Church, 15 Common Street: Headlining: Five O'Clock Shadow.  In advance: $17 General/$15 Students & Seniors (Brown Paper Tickets – www.brownpapertickets.com) At the door: $20 General/$17 Students & Seniors. More details, check www.steeplecoffeehouse.org or call 508- 281-9995.
Sunday, March 9, 2014:
Assabet Valley Mastersingers (3:30 – 3:30 pm) @ St. Mark's School: Performance of Petite Messe Solennelle composed by Gioacchino Rossini. This will be the original version of composition with two pianos, harmonium, and soloists.