Have you looked at the Spring and Summer guide for the Southborough Recreation Department?
As usual, they have a lot of great offerings for all ages. But what jumped out at me were all the new offerings for preschoolers.
I checked in with Recreation Department Director Doreen Ferguson. She tells me that the programming was in response to community feedback. Freeing up space allowed them to offer some of these special programs.
Last year, the town opened a play space for resident tots in the South Union building at 21 Highland Street. At that time, they began to offer free recreational play at regularly scheduled times.
The Free play is still running 10:00 am – noon, every Friday through May 9th (excepting holidays and school vacations). This program is for preschoolers and their parents/caregivers. (It is not a drop-off program.)
This spring, they've added two drop-off programs:
Supervised play – for potty trained 3-6 yr olds: Unstructured play time with age appropriate toys under supervision. This will begin April 30th and run Wednesday mornings from 9:30 am – noon. You can sign up for the 6 wk session ($135 /pp) or "walk-in" for a morning ($25/pp). There is a minimum and maximum number of participants, so if you are planning to walk in, I suggest calling ahead.
Structured, supervised activity time –  for potty trained 3.5 – 5 yr olds: The "Alphabet Soup" program will incorporate a variety of  developmentally appropriate activites covering literacy, music, movement, math, science and art. Beginning April 1st, it will run Tuesday and Thursday mornings, with options to sign up for either a one or two day program. (6 week sessions: 1 day/week $150/pp or 2 days/week $250/pp).
They are also holding special parties in the play space. This week they are hosting a St. Pat's party. In April, they will hold an Easter party, and a science discovery program with baby animals.
Of course, they still offer sports activities for preschoolers. This spring, in addition to traditional sports, they includes PK Flag & Tag Games. (I know that's one that my children would have loved at that age.)
For details on all these programs, check out the new brochure.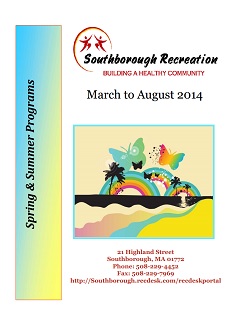 To register for a program, visit their website.
Next on the horizon for town Rec is increasing offerings geared towards those with special needs.
The department is working with members of NSPAC to develop new programs. Ideas include "adaptive yoga and mindfulness techniques".
If there is a recreation need that you think the town could better address, Ferguson encourages you to reach out.
If you have ideas you would like Southborough Recreation Department to consider, email dferguson@southboroughma.com.