Two youth basketball teams reached out to me with their stories, posted below. Now I'm asking you to share yours.
If there's another team you want to share news on, shout it out in comments below, or send me an email with pics (make sure you have parental permission to publish).
But it's not just your teams I want to hear about.
Did you attend an event, meeting or lecture you want to share your opinions on/recap of?
Did your group or child's troop run a community activity you want to tell us about?
If you think it's postworthy – shoot me an email at mysouthborough@gmail.com! Or you can add a quick comment to the most recent Open Thread.
Now back to our youth travel teams. . .
Parents asked me to give a shout out to the Southborough Flames.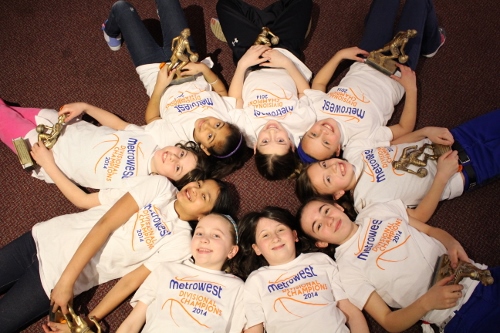 This 4th Grade Girls Basketball team won their Metrowest Division Championship. Unfortunately, they lost their playoff game after a good fight against Newton, 23-26.
There was also a lot of pride shared for Trottier Middle School's 8th grade Boys Basketball team's accomplishments, both on and off the court.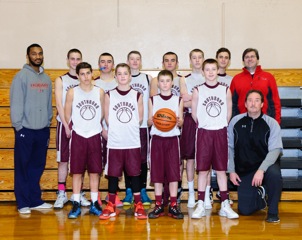 Off the court, team members took time to serve dinner "to those needing a helping hand at the United Way in Framingham."
On the court, the team made it to the Division 1 Metrowest Basketball Tournament. A parent shared:
This group of boys have played together in Southborough Youth basketball since 1st grade. They just completed a very successful five years of travel basketball playing against some of the top talent and largest towns in the State.

Since 6th grade at Trottier middle school, the team has amassed a record of 71-19 over that time. They [hoped] to avenge their loss in the finals last year starting this weekend in the upcoming tournament.
So how did their bid go? Another hard fought loss to Newton.
Is Newton our arch rival? I keep hearing Seinfeld's voice as I think, "Newton!"
A local basketball blog, Select Hoops, posted a recap of the exciting game: 
I couldn't help but notice the buzz brewing around the 8th grade boys Southboro and Newton game.

This seemed to be a back-and-forth game throughout regulation and it appeared as if Newton's season was coming to an unceremonious end as Southboro held a 59-53 lead with a little over a minute left. Due to pressing with urgency and turning some turnovers to points, Newton found itself in a position to tie the game when Ethan Wright went coast-to-coast to score and got fouled. Wright was not able to convert the "And-1" and Newton had to put Southboro at the line to extend the game. Southboro hit both FT's to take a 61-58.

Newton got the ball in Wright's hands and this is when things got silly. Wright split the defense at around half court with a spin move and pulled up for what appeared to be a 28-foot jump shot that went through the net as time expired and bedlam followed as the Newton bench and fan section erupted. Only in March…

In the first overtime, the teams were a little stagnant until about 15 seconds left in the frame. After a timeout, Newton was able to penetrate Southboro's 3-2 defense and locate a wide open Robbie Hodin for a 3-pointer to take a 3-point lead, 66-63. However, Southboro wasted no time pushing the ball up the court and Kyle Henderson supplied some clutch heroics of his own as he buried a double-clutch 3-pointer at the buzzer which left the Newton bench in agony and the Southboro crowd in utter joy.

After an even second overtime, Newton outscored Southboro in the third overtime, 8-3, powered by Hodin's five points to come up with an epic victory over Southboro, 79-74. 
Congrats to all these hard working players!