This fall, a terrible tragedy struck a member of the Southborough community. Woodward School's computer teacher Amy Benford mourned the loss of her 15 year old daughter Abbie:
Abbie Benford had multiple food allergies and passed away from an anaphylactic reaction on December 18th, 2013, just eight days before her 16th birthday.
Now those who loved Abbie are reaching out to the world in her memory. They want to tell the story of how "Abbie LIVED":
Abbie didn't let her food allergies define her. She spoke freely about her allergies and advocated for herself as soon as she was able. She tried new foods (of course after checking ingredients) whenever she could. Each trip to Whole Foods became an adventure to see what new thing she could eat. She was even planning on traveling Europe for spring vacation with her school. She was fearless.
​
No child wants to be different. Abbie seized any opportunity there was to be part of a group; a soccer team, a basketball team, an art class, a play, and (her niche) a field hockey team. She LIVED!
A charity has been founded in Abbie's name, KeepSmilin4Abbie. Their mission is to help others live with food allergies:
Millions of people in the U.S. suffer from some form of allergy.  KeepSmilin4Abbie.org has two focus areas; increase awareness and support the community.  We will raise awareness through education about the severity of anaphylactic reactions from food allergies and establish a supportive environment where afflicted people live "outside a bubble."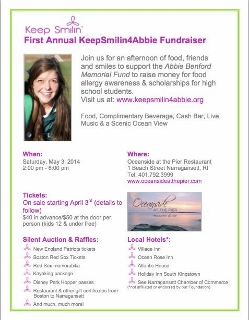 If you would like to help them fund their mission, here are two ways:
Donate money through the Give Now website (Under the "operating fund" pull down list, select Abbie Benford Memorial Fund.)
Contribute a silent auction item for use in their upcoming May 3rd fundraiser. You can email jkbianchi@townisp.com to coordinate.