The Algonquin Athletics Boosters Club is holding a fundraiser next Thursday. Uno Pizzeria & Grill will donate 20% of the school supporters' food bills from March 27th to the AABC.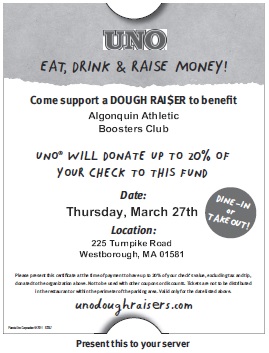 To participate, dine-in or order takeout from Uno's Westborough location, and provide the coupon. (Click coupon for printable version.)
In case you are wondering what the fundraiser supports – The AABC supports athletic programs and facilities for over 25 Algonquin sports teams:
Over the years Boosters has funded many enhancements for the athletic programs such as a dedicated medical cart for the athletic trainer, state of the art goal posts for the football/soccer field, sound systems on the football field and in the gym, just to name a few!

Boosters also fund the following:

Yearly scholarships to four graduating seniors
Support for Freshman Orientation
Special workshops for families of athletes
Additional training and education for our Athletic Trainer
Financial assistance for families in need who cannot pay for athletic fees
Snack Shack and concessions at home games
So, mark your calendar, click on that coupon, enjoy a deep dish, and support hometown teams!