I had such a long list of events for the week this Monday, I worried that these fun events for tots may have gone unnoticed.
The Recreation is holding two fun free events for young kids in town this Friday. Both take place a the South Union Building at 21 Highland Street: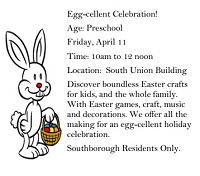 Egg-cellent Celebration!
Friday, April 11 (10:00 am – 12:00 pm)
Drop-in
Free party for toddlers, preschoolers and caregivers. (Southborough Residents Only.)
Discover boundless Easter crafts for kids, and the whole family.
Fun also includes Easter games, music and decorations.
Pre-K Science Discovery – Wildlife
Friday, April 11 (Session 1 – 10:30 – 11:00 am; Session 2 – 11:15 – 11:45 am)
Pre-register
For pre-registered 3-5 year old Southborough residents.
Friends of Southborough Rec are sponsoring a free hands-on visit with adult and baby animals through the Audubon Ark Wildlife Outreach Program.
The teacher will bring mice with baby mice and a chicken with chicks if available
Children will have the opportunity to touch and learn about these animals from a teacher from the Drumlin Farm Wildlife Sanctuary.
Call 508-229-4452 to pre-register. (Only 15 spaces available per session.)