Last Friday, The Boston Business Journal posted Massachusetts teacher salaries broken down by towns and districts. According to their figures, Southborough's K-8 average teacher salaries moved up 11 spots from 2012 to #13th highest  in 2013.
The ranking covered 328 towns and regional budgets.  Algonquin Regional High School ranked #21 on the list. Meanwhile, Northborough K-8 came in at #55.
In looking at the oveall statistics, BBJ wrote:
there's really not much consistency among local towns and cities when it comes to teacher salaries and employment. Some communities are spending more than ever, while others are below where they were before the last recession. Many school districts have seen average teacher pay jump in recent years, while others have made cuts. . .

The median teacher salary among Massachusetts school districts was about $69,000 in 2013, versus $61,000 five years earlier. Last year, roughly two out of every three Massachusetts school districts saw average teacher pay increase from 2012's levels. All but 20 districts have seen average teacher pay increase since 2008.
Here's a quick look at the 2013 rankings and average salaries for our town and some neighbors:
Southborough – #13 – $86,395
Northborough Southborough – #21 – $83,314
Hopkinton – #53 – $77,864
Northborough – #55 – $77,688
Westborough – #76 – $76,127
Shrewsbury – #100 – $74,298
Ashland – #147 – $71,270
Below are the details for Southborough and ARHS: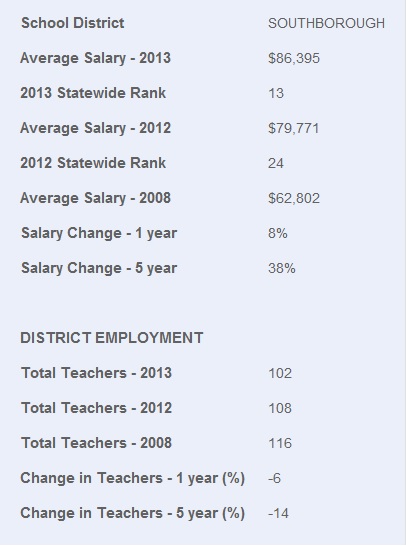 For BBJ's full story and more figures, click here.