I've had a few requests to share safety warnings. These all seem appropriate either for today's weather or Memorial Day weekend.
Lightning Warning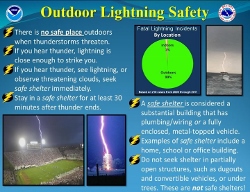 From the National Weather Service.
Thunderstorms are forecasted for today and a frequent occurance in the summer.
NWS reminds us to seek "safe shelter" (and what that is) when we hear thunder.
The warning as written may seem like overkill. But I have a friend that was injured by lightning. So, I always head for real shelter when I hear booms!
Grilling Safety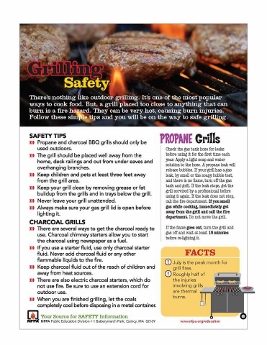 Enjoy your Memorial Day BBQs.
To the right are some tips from firefighters to help keep festivities safe.
Swimming Safety – Drowning Doesn't Look Like Drowning
A reader asked me to share an article reminding us that drowning is a silent killer.
Drowning victims generally don't splash or thrash. And it only takes 20-60 seconds of silent struggling before someone slips under for good.
People in the process of drowning don't have enough breath to make sounds. And they can't control their arms to signal for help or event to reach out to grab something.
Of course, that doesn't mean that those that can struggle aren't in "aquatic distress." Take any call or struggle for help in the water seriously, too.  
The safety article by Mario Vittone informs:
of the approximately 750 children who will drown next year, about 375 of them will do so within 25 yards of a parent or other adult. In ten percent of those drownings, the adult will actually watch them do it, having no idea it is happening.
The reader shared that years ago, his 3 year old daughter almost drowned right near him:
she simply slid under the water at a crowded children's pool.  No sound, no splash, nothing.  I didn't actually see her go under the water.  Fortunately, I was standing near the pool chatting with other parents and I just happened to look her way and saw her floating under the water.  It was very fortunate to be able to run into the pool and lift her from the water.   I remember looking at her as she floated under the water, face up, eyes open, a stream of bubbles coming from her open mouth.  She had a quizzical look on her face.  The other 20 or so parents at the pool had no idea what was happening except seeing me, fully clothed, run into the wading pool.  Another odd thing is that she was tall enough to stand up in the pool.
Around that age, my young niece slipped out of her innertube and under water without a sound. Horrifyingly, I and other adults were right next to her and didn't notice. Fortunately, my daughter did.
So, before you head to a pool, lake or beach this summer, take a moment to read about drowning warning signs.