No, I'm not sick of the kids' summer break yet. But I do like to plan ahead. So as I look the school calendar for the coming year, I'm sharing it with you.
An initiative that could have delayed school to after Labor Day was unsuccessful. So schools will be back in session in Southborough on August 28th. 
Earlier this year, three religious holidays had been up for debate: Rosh Hashana and Yom Kippur and Good Friday. Superintendent Charles Gobron headed a calendar committee to brainstorm improvements.  Their recommendation was to hold school on those days. The religious holidays would have been optional with accommodation for religious observance.
Several residents and some school committee members deemed the change unfair. Complaints focused on asking students to choose between school and religion. In the end, the Southborough, Northborough, and Regional school committees all sided against the change.
The official calendar for the year has been released. (Click below to for full size version with listed holidays.)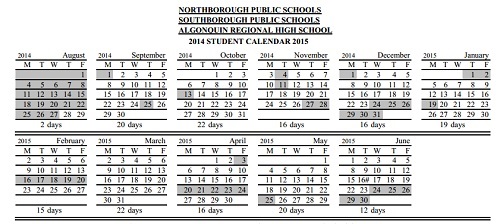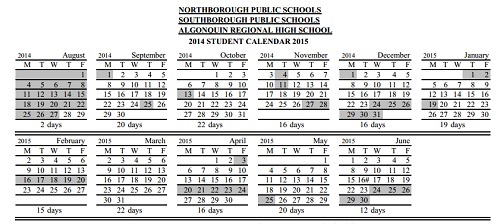 The new calendar does reflect one recommended change. This year, there will be one less professional development day after school starts. Two of the four days will now be held before students return.
No word yet on half days at specific Southborough schools this year.
The last day of school could be as early as June 16th or once again run to June 23rd.