Southborough residents are holding a reception for Representative Carolyn Dykema next week.
On Tuesday, July 22nd, from 6:30 – 8:30 pm, Dan Frank and Jill Desmaris are hosting the event at their home on Overlook Drive.
Supporters do not need to make a donation to attend. But the main purpose for the reception is to raise funds for Dykema.
According to the invitation:
Rep. Dykema continues to forego campaign contributions from special interest groups and relies primarily on local contributions.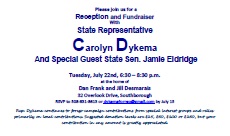 Any donations are welcome with suggested levels are between $25 and $250. RSVP to 508-831-8613 or dykemaforrep@gmail.com.
Note: the registration deadline has been extended to July 20th.