The Southborough Senior Center will host two free community programs: a police meet and greet and home safety presentation.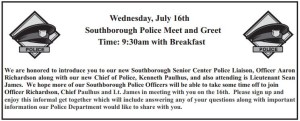 Stop by the Senior Center tomorrow, July 16 for a chance to meet the new SSC police liaison Officer Aaron Richardson, Police Chief Kenneth Paulhus and Lieutenant Sean James.
Officers will be available to answer questions and offer information to residents. The informal meet and greet will begin at 9:30 a.m. with breakfast.
On Wednesday, August 6, at 9:30 a.m. members of the Southborough Fire Department will talk to residents about senior safe visits.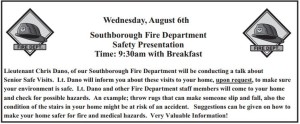 Upon request, members of the fire department can check your home for hazards to ensure a safe environment. Throw rugs and stairs are exampled of potential hazardous. Suggestions on how to make your home safer will be given, as well as, fire, and medical hazardous.
To sign-up for these free events stop by the SSC front desk or call (508) – 229-4453.