I received two announcements on Lacrosse news to share. One boasts the accomplishments of players in town. And one seeks to recruit players to a new team.
Last Thursday the boys' Central Mass lacrosse team won Gold at the 2014 Bay State Games. The 11-town regional team had 9 players from Algonquin, including three from Southborough. They beat out the Northeast Region team 10-4 to cinch the medal.
The Bay State Games website writes:
The Bay State Summer Games is Massachusetts' own Olympic-style athletic competition that has annually been held since 1982. Each year the Summer Games features 7,000 athletes competing in 26 sports. Athletes of all ages and abilities represent over 300 Massachusetts communities each year. The Summer Games annually take place during the month of July. The Summer Games consist of Showcase Sports, Individual Sports, and Team Sports. Tryouts for Showcase Sports are held during the month of June statewide. Finals for all Summer Games competitions are held in the Metro Boston and Central Massachusetts area.
The team announcement showed pride in the team's steady improvement over the past three years. Central MA won Bronze in 2012 and Silver in 2013.
Meanwhile, a new lacrosse club team is seeking girls grades 4-8 from town and the region to tryout. Gold Star Lacrosse pitches why players should seek a spot with them: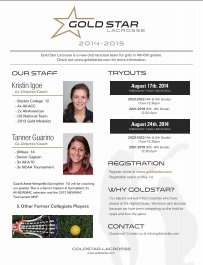 Our players will learn from coaches who have played at the highest levels. We know girls lacrosse because we have been competing on the field for years and love the game.
The coaches include a 2013 Gold Medalist from the US National team.
Tryouts will take place in Medway on August 17th & 24th.
To register, visit goldstarlax.com.
For more information, click the flyer to enlarge.