Halloween week kicks off tonight with one of three costume parties for kids this weekend. But not all of the weekends activities are for kids. Here are the highlights.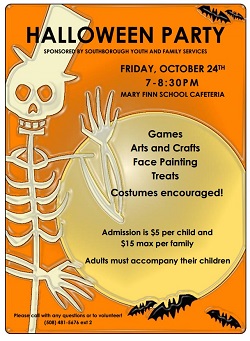 Friday, October 24, 2014:
Halloween Party for 12 and Under (7:00 – 8:30 pm) @ Finn School cafeteria: $5 admission or $15 per family Party for 12 and under, accompanied by adults. Games, Arts and Crafts, Face Painting, and Treats. Costumes encouraged Sponsored by Youth and Family Services. See dedicated post for details.
Saturday, October 25, 2014:
Halloween Party for 2-8 year olds (10:00 am – 11:00 am) @ Fay's Primary School: Jeannie Mack's Halloween Party Jeannie Mack, children's musician, will perform songs about pumpkins, trick-or-treating, and silly witches. There will also be fun and games, a Halloween story, and a parade. Make sure you wear your costume! This program is designed for children ages 2-8 along with their parents. It will be followed by a complimentary snack. (Use the school's East Entrance at 25 Middle Road for access and parking.) Please pre-register. (Photo from entertainer's website.)
DNT TXT N DRV teen & parent seminar (10:00 am) @ Long Cadillac, 218 Turnpike Road: Free seminar to help teens and their role-model parents to avoid distracted driving. See dedicated post for details.
Steeple Coffeehouse – Tracy Grammer (7:30 pm) @ Pilgrim Church's Fellowship Hall:  The singer/songwriter/storyteller will kick off the coffehouse's 19th season. Tickets for the evening show are $15 in advance ($12 for students/seniors) or $18 at the door ($15 for students/seniors). Advance purchase is available online. For full details, see dedicated post.
Sunday, October 26, 2014:
Mushroom Walk (1:30 – 3:30 pm) @ Town Forest Trailhead, at the end of Walnut Drive (off Oak Street): Southborough Open Space Preservation Commission and Stewardship Committee are inviting adults in the community to join them as they identify 30-50 mushroom species in the town forest. For full details, see dedicated post.
Southborough Firefighters Association Annual Halloween Parade (4:00 pm) @ Main Street (Mauro's Market to Fire Station): Parade line up begins in front of Mauro's Market. Parade ends inside the Fire Station. Candy is handed out to the children and refreshments served. Costume prizes are awarded. See dedicated post for details.