It's hard to imagine what Southborough's going to look like in 2040.
A panel of experts from universities across the sate will be on-hand to discuss Southborough's plan to meet economic, demographic and land use challenges ahead.
Join the Southborough Board of Selectmen and Economic Development Committee for a Business and Non Profit Summit on Thursday, Nov. 6 from 7:30 a.m. to 10 a.m. at St. Mark's School, Putnam Family Arts Center, 25 Marlboro Road.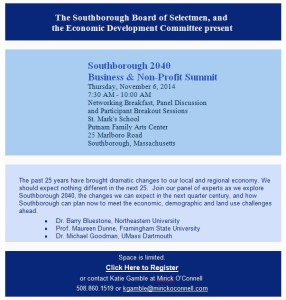 The summit includes a networking breakfast, panel discussion and participant breakout sessions.
Panelist include:
Dr. Barry Bluestone, Northeastern University
Professor Maureen Dunne, Framingham State University
Dr. Michael Goodman, UMass Dartmouth
Space is limited. Reserve your seating online or contact Katie Gamble (508) 860-1519.
The summit is sponsored by Mirick O'Connel, Attorney's at Law.