Alqonquin Youth Wrestling Clinic is promoting its early bird registration.
The early rate is $100. After that the price goes up to $125. The official deadline is tomorrow, but readers can get an extension if they contact organizers this weekend.
The clinic is for 5th-8th graders will run December 9 through February 26 on Tuesday and Thursday evenings. Wrestlers will also be given the opportunity to attend optional jamborees, tournaments and dual meets.
Why wrestling? Program coordinators pitch:
Develop balance, flexibility, coordination, body awareness and self confidence through high energy, fun filled sessions where your child will learn amateur wrestling techniques.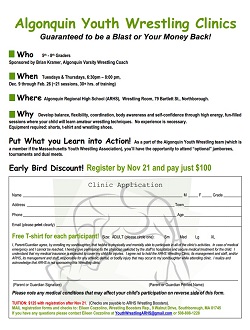 Eileen Cozzolino is coordinating the registrations this year. She has good reason to believe in the program. Her son Drew, pictured above is a clinic alum.
Last year, Drew moved up to Algonquin Wrestling as a freshman. He earned the most wins of any freshman and "rookie of the year".  (Sounds like he had a good foundation.)
To register, contact Eileen by this weekend for the discounted rate. You can email youthwrestlingARHS@gmail.com or 508-808-1228.
For more details and the registration form, click the flyer to enlarge or open this pdf.