Good news from Southborough Recreation Department. The 8th Annual Gobble Wobble is greenlit for the morning.
Unfortunately, it's a red light on the kids' fun run. They will be selling the fun run t-shirts for $10.
Organizers are expecting 1,200 runners to flock to the annual 5K and 2K Thanksgiving morning. For those of you who haven't picked up your bibs yet – or still need to register – shake of your tail feathers bright and early tomorrow.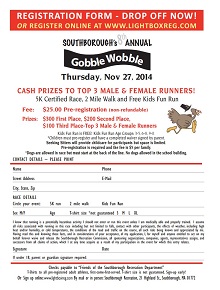 Registration opens at 7:00 am at Trottier. (Get a head start by printing the registration form here.)
The race is cheduled to begin at 8:30 am. Following the race, prizes will be granted to the top 3 male and female runners by Representative Carolyn Dykema.
The event was made possible by support of the following sponsors:
Elite Sponsor
Fidelity
Platinum Sponsors
Ken's Foods
Trombetta's
Gold Sponsors
Capital Group Properties
Eagle Leasing
Global Printing & Packaging
Wee Care for Little People, Inc.
Table Talk Pies
Dunkin' Donuts
NECC
Silver Sponsors
Fay School
Marlborough Savings Bank
Wegmans
Tomasso's
Southborough House of Pizza
Sperry's Country Market
Domino's of Southborough
Andrew Abu Realtors
Long Automotive Group
Sheri Beran Design
Port Printing Solutions
Bronze Sponsors
St. Mark's School
Salon Charisma
Southborough Village Preschool
GE United Way Campaign
The Gobble Wobble is Friends of Southborough Recreation's big annual fundraiser.
Wondering why the cause is worth supporting? Check out Friends of Southborough Recreation's profile for more information.