There are so many concerts with town connections this weekend, I haven't given them all due attention.
Consider this a roundup.
I've already shared news about St. Mark's School's Lessons and Carols and Handel's Messiah at Pilgrim Church, both on Sunday. (And I shared St. Mark's Church's announcement that their Christmas Bazaar will include live music.)
Here are the concerts I haven't blogged about: a town Folk Trio, a private school's Christmas Pops and community chorus performances.
Ordinary Time
Saturday, December 6 at 8:00 pm
l'Abri Fellowship House, 49 Lynbrook Road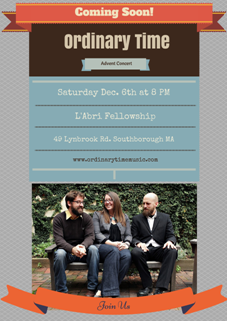 The folk acoustic trio is led by resident Ben Keyes. The performance is a free "interactive holiday concert" with stories. (And if that's not enough, its also accompanied by desserts.)
The performance will feature Christmas and Advent carols. The band's "oeuvre seamlessly weaves the hymns of generations past with their own new songs—often indistinguishably—producing a sound that ranges from bluegrass-tinged Americana to sacred harp hymn arrangements." Organizers promote:
Comprised of Ben Keyes (guitar, piano, mandolin), Peter La Grand (guitar, banjo, dobro), and Jill McFadden (guitar, violin), Ordinary Time presents extraordinarily rich vocal harmonies, skillful instrumentation, and thought-provoking lyrics. . .

Grounded in tradition, innovative in expression, and mature in musicianship, Ordinary Time offers an important and unique voice, gifting us with enduring tunes for the journey of faith.
The following concerts take place outside of town. But the groups include enough Southborough members to deserve a shout out. 
Northborough Area Community Chorus
Sunday, December 7 at 3:15 pm
Mill Pond School, 6 Olde Hickory Path, Westborough
Telegram.com ran a story on the group sharing news of the upcoming concert:
with a 40-plus-member chorus who will be singing religious and secular Christmas selections including "O Holy Night," the "Hallelujah Chorus" and a rendition of "The Night Before Christmas." A visit from Santa is likely, with presents for children attending the performance.
Tickets run $5 apiece.
Westborough Community Chorus
Friday, December 5 and Saturday, December 6 at 8:00 pm; Sunday, December 7 at 2:00 pm
Sarah Gibbons Middle School, 20 Fisher St, Westborough
The annual holiday show, complete songs, skits and a visit from Santa. The chorus is comprised of close to 100 members. Their theme this year is "Icicles and Holly Berries"
There are usually two audience participation events in the show: a sing-along and a Christmas Q&A session with children from the audience.
General admission is $12. Kids' and Seniors' tickets cost $9 each. For Group Sales (10 people or more), please contact E. Kluge (EKluge51@aol.com)
Christmas Pops 
Friday, December 5 and Saturday December 6th at 7:30 pm; Sunday, December 7 at 3:00 pm
Marian High School, 273 Union Ave, Framingham
The Marian Mainstagers will perform their Christmas Pops concert.
Tickets may be purchased at the door for $10 or reserved in advance for $5/ticket (pickup at the door) by calling and leaving a message for Cammy Morteo at Marian High School 508-875-7646 extension 412.