A Metrowest chorale group is encouraging young Southborough singers through a special event. Heritage Chorale has partenered with MutualOne Bank to offer students in grades 4-8 free tickets to a live chorale performance.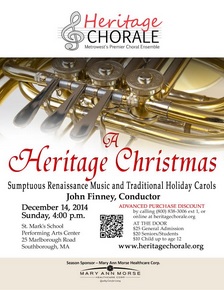 The tickets must be paired with purchase of an adult ticket. (For pricing, click on flyer to enlarge.)
The performance is their Christmas Concert this Sunday, December 14. It will be held at St. Mark's School at 4:00 pm.
The 90 member Chorale will be performing with the Gainsborough Brass Ensemble, bringing music from the Renaissance through today, with well-loved Christmas music such as Carol of the Bells, The Wassail Song, and Christmas Day and sing-a-longs of familiar carols.
Tickets must be reserved in advance.

Any parent interested in reserving a free child ticket should contact the group at info@heritagechorale.org for instructions (Subject line "Free for Child.")
Organizers caution that the concert is not appropriate for children younger than eight.
Parking will be at the the Woodward School parking lot. Shuttle buses courtesy of Mutual One will run every 15 minutes, starting at 2:15, and with return trips after the concert. (Senior citizents and those with mobility difficulties can make use of parking at St. Mark's.)
So, what is Heritage Chorale?
According to their website, the 78 year old auditioned chorus' mission is "to perform high high quality choral music." The Framingham based chorus boasts singers from more than 30 communities are conducted by renowned Boston-area music director John Finney.
More concert information is available at HeritageChorale.org or by calling 508-270-3999.