If you're going to be home with kids over Winter Break this year, you'll be happy to know that there are programs available after Christmas.
To start, here are the offerings that Southborough Recreation has planned. They range from free drop-in fun to pre-registered 2-day workshops.
Stay tuned for other events/activities in town.
Model Building –  Airplanes, Bridges, and Electronic Gadgets – Ages 7 to 12 – $140/pp
Register by December 19
December 29 and December 30, 9:00 am -4:30 pm
Build your own rubber-powered model airplane. Use your model as a learning tool in aerospace education, or just have fun building a sound airplane that actually flies when assembled. Have fun designing and building model bridges. Join us in our bridge building contest to see which one can hold the most weight. Learn simple engineering skills. Build 6 electronic projects. Some of them include a patrol car siren, burglar alarm and morse code transmitter. You will learn how the different electronic components work. Bring a little imagination and get ready to "Fly with Sciensational Workshops."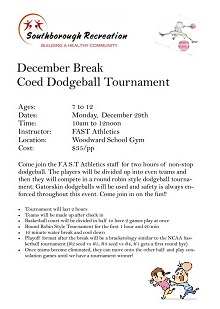 Co-Ed Dodgeball – Ages 7-12 -$35 pp
Register by December 23
Monday, December 29, 10:00 am – 12:00 pm
Two hours of non-stop dodgeball. The players will be divided up into even teams and compete in a round robin style dodgeball tournament. (Click flyer for details.)
Open Gym at Trottier – Drop In – All ages – $2/pp
December 30 and 31st, 9:00 am – 12 noon
Enjoy a pick up game in the gym with your family and friends. Participants must bring their own basketballs. Please wear sneakers only. No Food or drinks allowed in the gym. Children under 10 years old must be supervised by an adult.
Free Movie: Frozen  – All ages
Free only for kids whose parents stay
Wednesday, December 31, 10:00 am – 12:00 pm
Children who aren't registered for "Day at the Movies" (below) must have a parent stay with them (and will have to leave after the movie screening.) No registration is required for this option.
Day at the Movies – Grades 2-5 – $20 pp, $15 per additional sibling
Register by December 26
Wednesday, December 31, 10:00 am – 2:00 pm
A day of fun, beginning with the screening of Disney's Frozen. 
Following the movie, lunch and drinks will be served. Kids will be supervised and introduced to a lot of indoor/outdoor winter activities. They will be engaged in lots of fun, exercise and socialization.
Parents can drop children off at 10 am, or stay for the movie portion then leave when lunch and games begin.
Pre-registration is required for the lunch and gym games option.
Updated (12/17/14 2:40 pm): Added sibling pricing for Frozen and flyer with Dodgeball details.
Updated (12/29/14 9:25 am): Just learned that Open Gym hours will be on Tuesday and Wednesday only.