Woodward School has its own take on Bingo – Wingo. The annual SOS fundraiser is coming up on April 10th.
It's a night of fun with prizes, raffles, pizza dinners and more.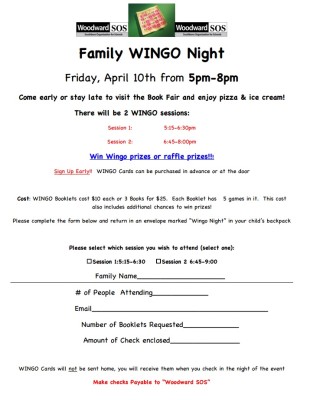 The event is split into two Wingo sessions, each with multiple games and chances to win. You can play from 5:15-6:30 pm or 6:45-8:00 pm.
Before or after playing you can also buy raffle tickets, visit the Book Fair, or buy a pizza meal.
Wingo game booklets are sold at $10 ea or 3 for $25 this year. (Each booklet has 5 games in it.)
Buy tickets in advance (through Woodward students backpacks) or at the door.