Here are the ARHS varsity games on tap for the week.
Have a photo of your favorite team in action to share? Email mysouthborough@gmail.com. (Until then, expect to keep seeing pics from past seasons!)
To find a complete schedule of Algonquin sports, including JV and freshmen match ups, click here. Follow these links for the Assabet sports schedule and the St. Mark's sports schedule.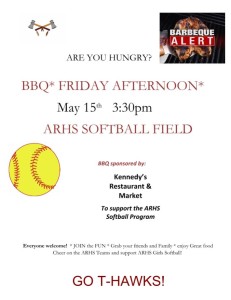 FYI – If you're interested in supporting ARHS Softball, the team is holding a fundraiser this Friday from 3:30 – 6/6:30 pm during their Friday night game. (You can also cheer on ARHS Baseball while enjoying the BBQ.) Click flyer to enlarge for details.
Monday, May 11, 2015
3:30 pm ARHS Girls Tennis vs. Shrewsbury @ Shrewsbury High School
3:30 pm ARHS Boys Tennis vs. Shrewsbury @ Shrewsbury High School (Location: Ashland Stone Park, Summer St. – downtown)
4:00 pm ARHS Baseball vs. Wachusett Regional @ Algonquin Regional High School
4:00 pm ARHS Softball vs. Wachusett Regional @ Algonquin Regional High School
4:00 pm ARHS Boys Volleyball vs. Marlborough High School @ Marlborough High School (Time Changed)
Tuesday, May 12, 2015  
4:00 pm ARHS Boys Lacrosse vs. Groton-Dunstable Regional @ Groton-Dunstable Regional High School
4:00 pm ARHS Girls Lacrosse vs. Groton-Dunstable Regional @ Groton-Dunstable Regional High School (Location Changed)
4:00 pm ARHS Boys Outdoor Track vs. Fitchburg @ Algonquin Regional High School
4:00 pm ARHS Girls Outdoor Track vs. Fitchburg @ Fitchburg High School
5:30 pm ARHS Boys Volleyball vs. St. John's @ St John´s (Time Changed)
Wednesday, May 13, 2015
3:30 pm ARHS Boys Tennis vs. Groton-Dunstable Regional @ Algonquin Regional High School
3:30 pm ARHS Girls Tennis vs. Groton-Dunstable Regional @ Groton-Dunstable Regional High School
4:00 pm ARHS Baseball vs. Leominster @ Doyle Field
4:00 pm ARHS Softball vs. Leominster @ Leominster High School
Thursday, May 14, 2015
4:00 pm ARHS Boys Lacrosse vs. Wachusett Regional @ Algonquin Regional High School
4:00 pm ARHS Girls Lacrosse vs. Wachusett Regional @ Wachusett Reg. High School
Friday, May 15, 2015
3:30 pm ARHS Boys Tennis vs. Westborough High School @ Algonquin Regional High School
3:30 pm ARHS Girls Tennis vs. Westborough High School @ Westborough High School
4:00 pm ARHS Baseball vs. vs. Marlborough High School @ Algonquin Regional High School (Time Changed)
4:00 pm ARHS Softball vs. vs. Marlborough High School @ Algonquin Regional High School (Time Changed)
5:00 pm ARHS Boys Volleyball vs. Leominster @ Leominster High School
Saturday, May 16, 2015
11:00 am ARHS Rugby vs. Simsbury, CT @ Algonquin Regional High School
1:00 pm ARHS Girls Outdoor Track vs. Lunenburg @ Lunenburg High School
1:00 pm ARHS Boys Outdoor Track vs. Shrewsbury @ Shrewsbury High School ( Districts)