Whether you're working on a new career, building on work skills, or just interested in a new hobby, Assabet After Dark has a lot to offer this fall.
But if you're eager to start sooner, the school is also offering a large roster of 6-week online courses that begin August 12th. (Sessions will also be offered in September and October.)
ed2go online course categories cover:
Career Exploration
Computer Applicatons
Computer Technology
Language
Management
Medical
Personal Development
Test Prep
Writing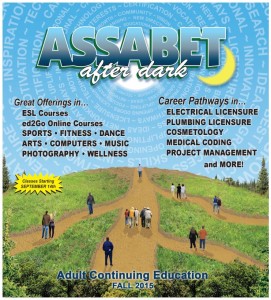 As for this fall's in-person courses, the catalog won't hit our mailboxes for a couple more weeks. But online registration is scheduled to start today. So, you can start your planning now.
Click here to explore.
As usual, classes will be available in Sports, Fitness, Dance, Arts, Computers, Music, Photography, and Wellness, as well as opportunities to enhance or advance a career by obtaining new certifications or licenses. . .

We also are offering over 40 brand new evening and Saturday classes at the school. With our renovation project nearing completion, our new offices up and running, and even a whole new look to our catalog, we are excited to once again provide a unique service to residents of our communities, whether it be to try a new hobby, to fulfill a dream, or to prepare for a new career.
For companies looking to educate employees, After Dark is even offering special, customized classes on a a contract basis. For more info on that, call 508-263-9651.
[Note: the After Dark office is closed to the public for construction this month. But you can reach them remotely if you have questions: 508-263-9651 or info@assabetafterdark.com.]