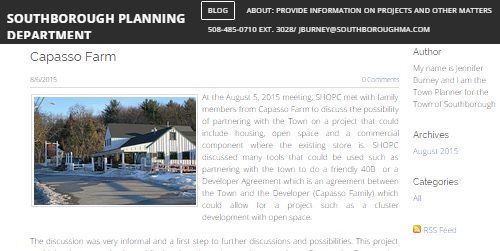 Good news for those of you who have been asking the Town to improve open communications.
A little tweety bird informed me that our Town Planner now has her own blog. Jennifer Burney launched the blog last week to keep the community informed on "projects and other pertinent matters".
Burney already posted three stories. (Though, if you've been following my blog regularly, hopefully not much of it is news to you.)
She started with the one that has already gotten some riled up on this blog, St. Mark's School's plan for a solar project on Sears Road.
Though there was not much new to report here, her post includes the Town's request for a legal opinion of "whether or not this is an allowed use" by the school under Mass Law. And she promises an update once she learns more.
The blog also shared news from SHOPC that includes their upcoming forum on senior housing and their plans to purchase an affordable house to sell to a qualified buyer.
Finally, she wrote about the Town's beginning conversations with the owners of Capasso Farms about potential projects for the land. She pointed out that the land is among the identified important unprotected parcels in the Town's Open Space and Recreation Plan. (You can see that 2009 document here.)
Burney's blog also offers an opportunity to post comments. Check out her blog here.