In case you missed it, or forgot, Southborough's end of summer celebration is next week. Summer Nights takes place the evening of Saturday, August 29. (Or the next day if pushed by weather.)
As usual, festivities include live music, food trucks, and activities for kids of all ages, culminating in a big fireworks display.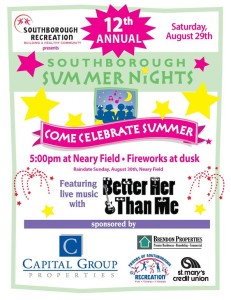 Fun begins at 5:00 pm and ends with the pyrotechnics after dark.
For full details on this year's celebration, stay tuned. But you can find more information from my earlier post.
I touched base with the Recreation Department to find out if they need any help.
As of the other day, they were still in need of a couple volunteers to help with parking.
If you're interested in lending a hand, you can call 508-229-4452 or email dferguson@southboroughma.com. (They closed at noon on Friday, but they open back up Monday morning.)